The New Essential Pot Paraphernalia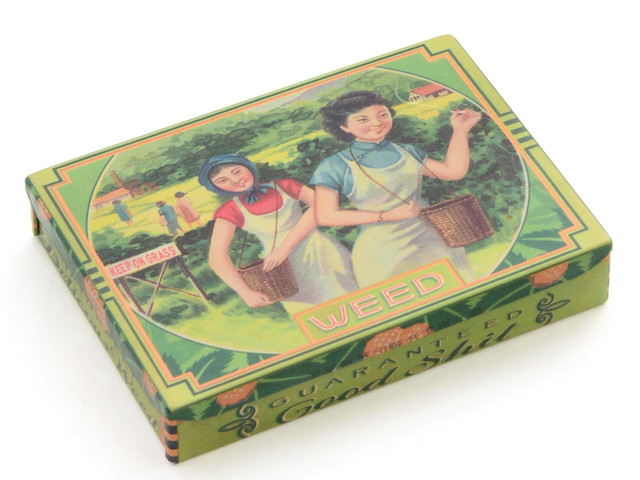 States like California and Colorado have already completely decriminalized marijuana, and New York is following suit in a limited form. Last year the city amended its policy on marijuana possession, so enthusiasts will no longer be arrested for being in possession of less than 25 grams. But the biggest news is that Governor Cuomo signed a medical marijuana bill into law.
Before you light up that blunt, you'll need to know that there are an incredible amount of restrictions that come with the Compassionate Care Act, which has not yet taken effect. Only patients suffering from debilitating or life-threatening conditions will be allowed to acquire prescription pot, and the cap on how many medical dispensaries can be established–just 20, as of now–will make it difficult for many to purchase pot legally. But if you do in fact qualify, and you can make your way to a dispensary, the weirdest part of the new law is that you aren't able to smoke it. The law allows for extracts, tinctures, oils and edibles—but not smoking.
Still, Erik Pye, the owner of Sunflower Glass Company in Bushwick, a shop that currently sells gear only for legal, flavored herbs and tobacco, has already felt the effects of the changing laws. "All of the smoke shops have benefited in places where it is legal," he says. "We do festivals, like we did the Cannabis Cup [in Denver], so it's already helped." Businesses in New York can't help but be influenced by other states with more leniency. "Just the atmosphere of it being accepted more and less stigmatized" has been a good thing, he says.
Doctor's script or not, there are already a few new means by which to enjoy your Mary Jane. Don't let the fact that the last time you thought about pot paraphernalia was in a head shop on St. Marks street deter you. The new gear is more high-tech and well designed, but still easy to use.
Here are the top essentials for the new dawn of decriminalized weed laws.
Cooler places to keep your stash. Tiny plastic bags aren't good for the environment and they aren't attractive on the coffee table. Update your stash spot with a pretty tin that matches your personality. This cigar box by Blue Q ($14.99) is decorated with vintage matchbook art that reads Medical Marijuana, and when you lift the lid there's step-by-step directions on joint rolling. If you'd rather be a little more discreet about what's in the box, ShopPlasticland.com sells a Secret Stash Weed Pocket Box ($10). Two sweet gardeners are pictured with a sign that says "Keep On Grass," making this choice decorative and utilitarian.
It's all about the vaporizer. The new medical marijuana laws won't allow smoking, but that doesn't mean you'll need to whip up batches of ganja goo balls. Vaporizers have become popular for being discreet and easy to use, and many include either batteries or chargers to create the convection needed to vaporize the active ingredients in any herbal or tobacco product–purportedly a less harmful method of ingestion than smoking. The Firefly Vaporizer ($280) is a high-end portable tool that is great for at home or on the go. It comes with a high-powered, lithium-ion battery and its own charging adapter and cleaning kit. Most importantly, you just press a button and it heats up instantly, and it has a handy window that will let you see if its empty or not. Plus, it looks as good as your iPhone. For something a little more affordable, leave it to Snoop Dogg to be at the head of the pack with his G pens. The new G Slim Ground Material Vaporizer ($32) looks as inconspicuous as an e-cigarette, but is designed for using with loose leaf products and comes with a wireless USB charger.
Put it in your pipe and smoke it. For some people, smoking has a ritualistic quality to it that is preferable to the new dawn of vaping. Mankind has used smoking dry herbal blends for ceremonial use since the invention of fire. Learning the right way to choose and care for your pipe is an art in and of itself. If you choose a beautiful hand-blown glass pipe like the Desert Shark ($50), just make sure to keep it clean of resin and wash it on occasion in soapy water. If you're a jazz lover and into jokey gifts, then put your herbal substance in this novelty saxophone pipe ($18). Or keep it old school, yet fresh, with a bubbling water pipe like these Neon Mini Water Pipes ($20).
Concentrate on Concentrates. There's a pipe for everyone these days. The newest pipes to hit the market are the concentrate pipes, which have a titanium nail piece that you get super hot by using a handheld torch, and a glass dome that fits over it to direct the vapor of the herbal extracts (rather than a bud). "Dabbing" hash oil is becoming increasingly popular, as it can deliver powerful doses, and less is needed to achieve the same results of, say, a vaporizer. This is a far more complicated method, and some of its gear can fetch up to $14,000. To read up on concentrates, this is a helpful article, and to experiment with them, the compact Clear Handheld Glass Pipe ($45) is an inexpensive introduction and sturdy enough for everyday usage.
Tools of the trade. Once you have your smoking accouterments and your herb of choice, you're almost set. If using a vaporizer, you can't just shove in a bud–you've got to first finely grind up all the greenery. The SharpStone Grinder ($38- $65 depending on size) is a well-made tool to have on hand. It's made with Aircraft Grade Aluminum (so it will last forever) and you can grind a ton with precision and speed. For more of a lighthearted feel to your grinding, there's the Tomato Pollinator ($22), because everything looks better as a tomato! And to really take care of glass pipe resin build up, there's a specific cleaner 420 Cleaner ($14) that will prevent lingering odors and keep your chambers open and clear. If you're set in your ways, and happy to continue smoking your spliffs, at least you can upgrade your rolling papers toRAW Organic papers which are made from organically grown, chlorine-free pure hemp. Unlike your Zig-Zags, these papers burn evenly and cleanly. Or as one Amazon reviewer put it, "They burn slow, the don't taste like a crunchy hippie, and they don't sear the flesh of my throat."
A few local head shops to check out:
Sunflower Glass Company, 12 Wilson Avenue, Bushwick. 347-406-7090. Hours: Monday- Thursday 11:30am-9:30pm; Friday- Saturday 11:30am-10:30pm; Sunday 11:00am-8:30pm 
Correction: An earlier version of this story stated that the New York state legislature signed the medical marijuana bill into law–a sign that we've forgotten all we learned in Poli Sci 101.